We are a market leader in European real estate investing with USD 4.1 billion of assets under management and a 10+ year track record.  We invest across the debt and equity capital structure in European real estate.
Cheyne Capital's Real Estate team was founded in 2009 out of the real estate credit led crisis of 2008. We have been instrumental in the provision of real estate capital solutions to the core European markets via direct bilateral lending, investments in securitised mortgage backed securities (MBS) and in a limited number of equity participations. We also selectively invest in direct real estate assets or platforms where the underlying asset offers significant asymmetric returns or fulfills a long term structural need in the economy.
The Cheyne Real Estate Group is the real estate division of Cheyne Capital Management UK LLP, the London-based alternative investment fund manager, authorised and regulated by the FCA.
We are very particular about the deals we participate in and the responsibility of our role as stewards of investors' capital.
Investment Principles
From our inception, the creativity, agility and inherent discipline of our dedicated investment professionals have earned us a reputation for innovative capital solutions, dependability and timely delivery. We have built this reputation by adhering to the following key investment principles: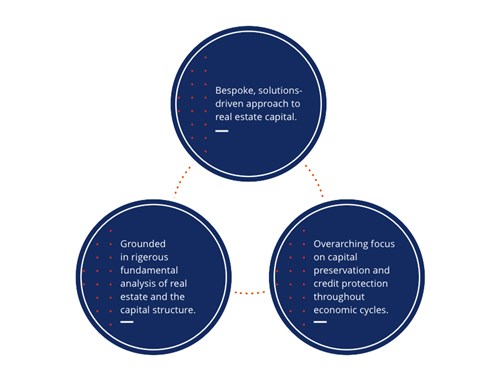 How we operate
We are able to offer attractive return profiles as a result of our position as the market leader in European real estate credit and our ability to provide meaningful solutions to the real estate industry.  Our significant breadth of expertise means we can find solutions which work for both our borrowers and our investors.
"Our business is based on the expertise of a strong team and is built for the long term. We deliver what we say we will do and this builds trust. It is that belief borrowers have in us, which is why they choose us." Ravi Stickney, Head of Cheyne Real Estate
We are very particular about the deals we participate in and the responsibility of our role as stewards of people's capital.
The team's experience includes notably:
Origination
Structuring
Executing
Special Situations
Loan syndication
Financing
Trading
Where we operate
We invest in the United Kingdom and Europe and focus on jurisdictions which we believe continue to offer an attractive combination of underlying tenant demand, liquid investment markets and a shortage of debt capital.